Every Day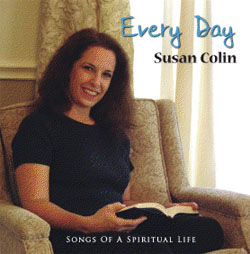 We pray to offer praise, express gratitude, and petition for help. Jewish music covers these and so much more: the joy of life as we dance and romance, fears, sadness, loneliness, and always, faith and hope. Jewish music can take on many styles to create an experience that is distinct yet allows us to be a part of the larger world. With these songs I've chosen to explore the influences of the past and present as well as aspects of cultures beyond the contemporary American Jewish realm. These include Native American poetry, South American percussion, jazz, pop, and my take on the nigun (wordless melody).
Every day we can pray and keep the divine spark in our lives to help illuminate our journey. Every day we have renewed opportunities to do better and to be better. My mother would say, "Tomorrow is another day." To my children I say, "Every day is a new day." This is every person's claim, unbounded by religious identity. I offer this music to all for whom music provides a link to the magnificent, messy, ultimately important connection between the heart, the soul and the world. This is how I define spirituality. - Susan Colin
All songs are available for download via iTunes, CDBaby, and OySongs.
* - Shalshelet Award (2008)
** - Published by URJ Books and Music, Shabbat Anthology Volume IV